JAPANESE STEEL CASTINGS AND FORGINGS
Introducing the Association
Steel Castings and Forgings Assoiciation of Japan consists of 88 members (45 companies producing steel castings and forgings and 43 companies related to the production of these products ). The purpose of its activities is to contribute to the growth of Japanese industry and the prosperity of the nation by promoting the healthy development of the casting and forging industry.
The wide range of the Association´s activities includes the following:
Studies and research concerning production, supply and demand, labor conditions and teconology, as well as the improvement and rationalization of business management.
Improvement of the environment and implementation of plant and mill maintenance.
Compilation of data and statistics, collection of information and publicity.
Acting as the industry´s spokesman in expressing views and opinions, preparing reports and answering inquiries.
Promotion of harmony and cooperation among the members.
Organization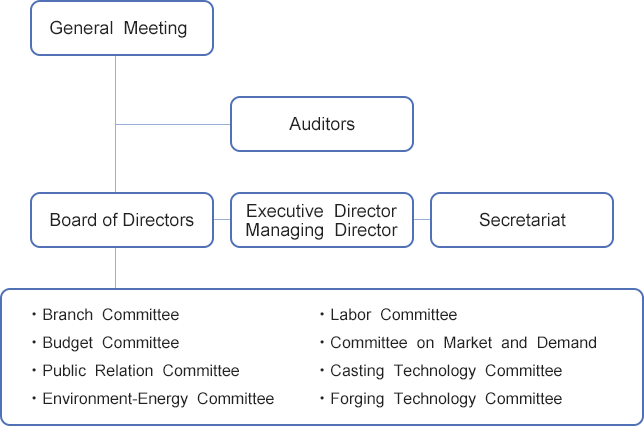 Chronology
| | |
| --- | --- |
| 1947 | The Japan Cast Steel and the Japan Forged Steel Society inaugurated |
| 1951 | Monthly bulletin " Steel Castings and Forgings " inaugurated |
| 1963 | Brochure on steel castings and forgings for use by customers inaugurated |
| 1964 | "Statistical Handbook on Steel Castings and Forgings "inaugurated |
| 1971 | Annual commendation ceremony inaugurated to acknowledge workers with outstanding achievements |
| 1972 | Steel castings and Forgings Association of Japan inaugurated |
Principal Directors and Secretariat
President
Kenichi Onoda
Executive Officer
Nippon Steel Corporation
Vice President
Hisao Yamane
President
Ube Steel Co.,LTD.
Takeharu Kato
Executive Officer
Kobe Steel, Ltd
Katsuko Tezuka
CEO President
Showadenki Chuko Co.,Ltd
Takaaki Taketsuru
Managing Executive Officer
Daido Steel Co.,Ltd.
Masaru Washio
President
Nippon Chuzo K.K.
Akihiro Tosaka
President
Fukushima Steel Works Co.,Ltd
Vice President
Executive Director
Daisuke Ota
JSCFA
Secretariat
Atsushi Takeda
JSCFA, General Manager
Nobuo Kano
JSCFA, General Manager
Yusuke Sekiyama
JSCFA, Research Dept.
Major Publications and Research Statistics
Publications
Bulletin "Steel Castings and Forgings (Chuko to Tanko)" (Twice a Year)
Tile Engraving Imformation News (Every other Month)
Technical Specifications of the Association
Standard Manuals for Manufacturing Steel Castings
Ultrasonic Flaw Detection Methods for Forgings
Defects of Steel Castings (Sand and Slag Inclusions ,Sand burning and Cracks)
Defects of Steel Forgings (Segregations , Inclusions , Pores , Hydrogen)
Technical Data for Steel Forgings
Mechanical Properties of Carbon and Low Alloy Steel Forgings (Tensile and yield Strength, Elongation and Reduction of Area , Charpy Impact Value)
Industrial Waste and Energy Consumption in the Steel Casting and Forging Industry
Statistics
Production of Steel Castings and Forgings
Labor Statistics for the Steel Casting and Forging Industry
Labor Accident Surveys in the Steel Casting and Forging Industry
Surveys of Steel Casting and Forging Exports
(*These Data are written in Japanese)
Access to JSCFA
Address
Shikoku Building Bekkan 14-4,
Uchikanda 1-chome, Chiyodaku, Tokyo.101-0047
Tel
81-3-5283-1611
Fax
81-3-5283-1613
E-Mail
cf@jscfa.or.jp
URL
www.jscfa.or.jp